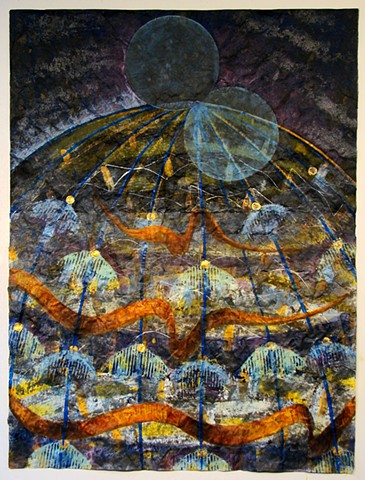 Winter House for Sheltering Moths - Longest Night
ink, acrylic, and tempera on paper
48" x 37"
January 2020
Winter Houses for Sheltering Moths
Mosquitoes and house flies carry diseases. Insect and infect have become somewhat synonymous as we study lists of diseases for which vaccines have been developed in our modern scientific history. Countless lives have been saved, agonies abated, but still the bee's sting might cause a sudden swelling that leads to labored breathing and even heart failure. Small, swift and potentially lethal the insect kingdom moves quickly around us at all times, except it seems, in winter.
A struggle beginning in late autumn overtakes the insect population at our 7000 ft elevation. As the cold descends, the anthill retreats for winter; grasshoppers and crickets seem lethargic as one steps near them; moths and flying beetles press against the glass from inside as if to absorb the sun. Gradually though, the entire insect kingdom seems to go into hiding or enters a weakened state towards their seemingly collective demise. It is as if, at a subconscious level, the quiet soundtrack of disappearing insect life is playing.
In their helpless state, I have watched and avoided anything to hasten their demise. Yesterday, a lapidary-like beetle paced up and down the window in January sun then flew off to hide somewhere in the house. It is this gathering somewhere at our periphery that encouraged the painting of "Winter Houses for Sheltering Moths". I imagine different members of the insect kingdom hanging in a suspended state, not gone, but simply in remission, their glowing bodies, shells and wings waiting though the freeze of winter until spring releases them again. Their purpose and cycles are larger than the worlds we imagine for them, and like the prehistoric cockroach, many of them will outlive us all, hidden in plain sight, a tiny innumerable power.